Miami Heat VS Boston Celtics will go again for the 2023 NBA Eastern Conference Finals, as the Celtics didn't give the Heat the satisfaction of a sweep.
This game will decide if the Celtics will survive to play another match or if the Heat will send them home in five games.
Use MatchPlug to get the Sure Tips for the Heat VS Celtics game in the 2023 NBA Playoffs, plus the NBA Betting predictions, picks, and odds. Do, check back for other NBA match previews to improve your betting choices.
Predictions and Betting Preview for Miami Heat VS Boston Celtics Game 5 Eastern Conference Finals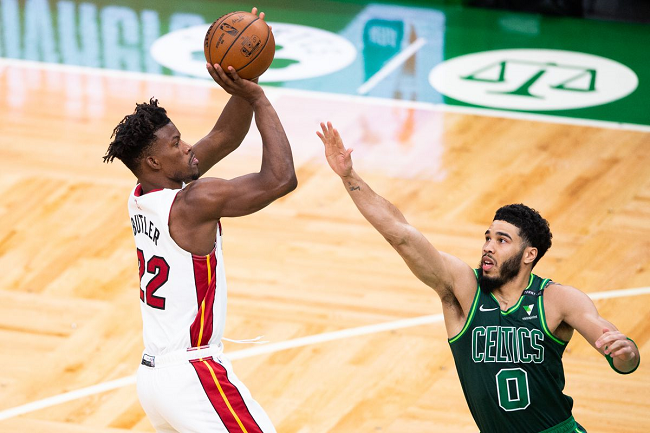 Venue: TD Garden, Boston.
When: Thursday, May 25th, 2023
Time: 17:30 GMT
Teams to play: Miami Heat and Boston Celtics.
NBA Expert Picks: MONEYLINE 1.36
Odds by BetMGM and 1XBet.
Betting On The Miami Heat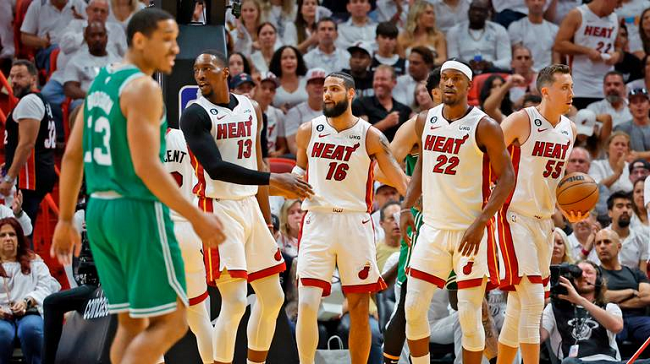 Regular Season Record: 44-38
1XBet Spread: +8.5
1XBet Moneyline: 3.74
1XBet Over/Under: Under 215.5
BetMGM Spread: +7.5
BetMGM Moneyline: 3.40
BetMGM Over/Under: Over 215.5
Miami Heat big man Bam Adebayo while speaking said, "We always say the last one to get is the hardest one to get," this was after their 116-99 loss in Game 4 Tuesday night at home.
Heat didn't have a good time on both sides of the floor in what could have been a closeout game, but they will get another shot in today's game in Boston. Even in the defeat, a silver lining for the Heat was Jimmy Butler's performance, who delivered 29 points on 9/21 shooting to go with 9 rebounds and 5 assists.
Provided Butler, maintains this effort, the Heat will be in the right frame of mind for every match they play. Throughout the 4 games in the Eastern Conference Finals, Jimmy averaged 26.8 points on 45.2 per cent shooting from the field to go with 7.5 rebounds and 6.0 assists.
Miami, as a team just didn't have what it takes to win in Game 4, but they know what they need to do to bring down Boston even in a road match. They are 2-0 there in this series. The Heat are also 4-1 against the spread in their last 5 games at TD Garden.
Betting On Boston Celtics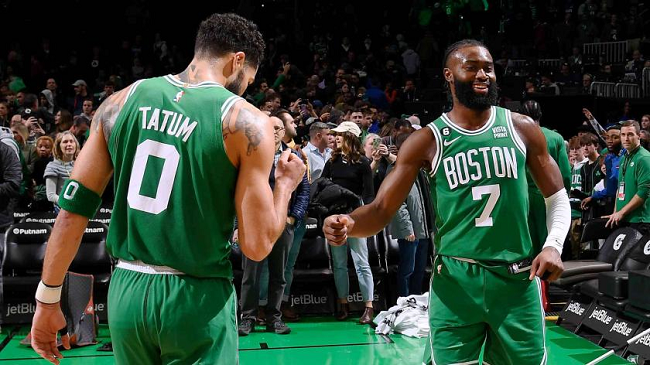 Regular Season Record: 57-25
1XBet Spread: -8.5
1XBet Moneyline: 1.36
1XBet Over/Under: Over 215.5
BetMGM Spread: -7.5
BetMGM Moneyline: 1.33
BetMGM Over/Under: Under 215.5
The Celtics finally figured out a way to beat the Heat. Jayson Tatum went off for 33 points on 14/22 shooting from the floor with 11 rebounds, 7 assists and 2 blocks in 42 minutes in Game 4, while all 4 other Celtics starters delivered at least 11 points.
Boston came prepared for Game 4 after a weak performance in Game 3, and there is a chance they'll bring the same energy to Game 5 in front of home supporters.
Now that they've gotten a taste of victory, the Celtics' confidence must be overflowing again, something that was missing during the early days of the series when the Heat was gathering momentum. Miami too may be cooling off after shooting the lights out in successive matches.
The Heat may now be witnessing the beginning of a potential offensive slump, which would be great news for Boston, which is 13-6 ATS in their last 19 games on a Thursday.
MatchPlug Prediction
The Boston Celtics will deliver another win as they did in Game 4, courtesy of consistent performance from the starters again. Miami Heat will struggle on offence too.