The Nashville Predators VS New Jersey Devils game features two teams who although they seek to dominate each other, want different things this season.
New Jersey has a 31-12-4 record and consecutive wins that placed them at the top of the Metropolitan Division. While Nashville has a 23-18-6 record and has improved in the Central Division by winning their past two games.
Both the Predators and the Devils want to climb the standings in their respective divisions, and that energy will translate into today's game.
MatchPlug is a good Prediction Site where you can find the best previews and odds for all NHL games. We have provided you with Betting Tips Today for the Nashville Predators and New Jersey Devils game.
Read: Mitch Marner Scores Outstanding Overtime Goal Lifts Maple Leafs Over Rangers
Predictions, Odds and Betting Preview for Nashville Predators VS New Jersey Devils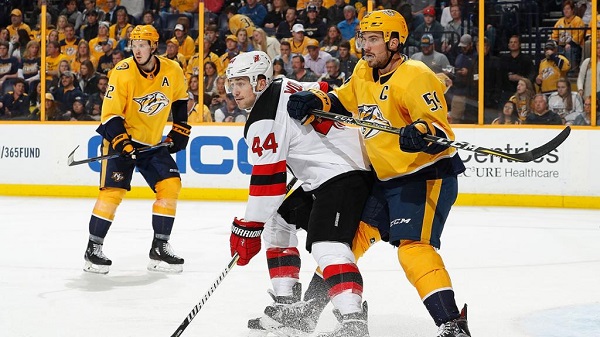 Where: Bridgestone Arena, Nashville
When: Thursday, January 26th, 2023
Time: 17:00 GMT
Teams to play: Nashville Predators and New Jersey Devils
NHL Picks: MONEYLINE 2.262
Odds as seen on 1XBet and BetMGM.
Betting On The Nashville Predators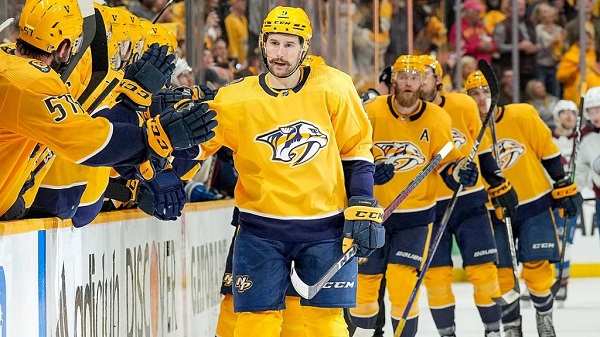 Season Record: 23-18-6
1XBet Spread: +1.5
1XBet Moneyline: 2.816
1XBet Over/Under: Under 5.5
BetMGM Spread: +1.5
BetMGM Moneyline: 2.10
BetMGM Over/Under: Under 6
Nashville's challenging season stems largely from their struggling offense which scored just 2.74 goals per game. Filip Forsberg and Matt Duchene combine for 31 goals and 45 assists, while Roman Josi the defenseman, added 12 goals and 28 assists from the blue line.
The rest of the offense battled to score points; only 5 skaters scored 8 goals or higher and the opposing defenses wasted no time in destroying the helpless offense.
Although the Predators' offense fails, their defense improved, allowing just 2.89 goals per game, including four goals in the last two games. Ryan McDonagh and Roman Josi share 5.5 defensive points and 189 blocked shots. Mattias Ekholm and Dante Fabbro combine 4.3 defensive point shares.
In addition, Jusse Saros the Predators goaltender came through with a .930 save percentage and a 2.70 goals-against average on 1204 shots.
Betting On The New Jersey Devils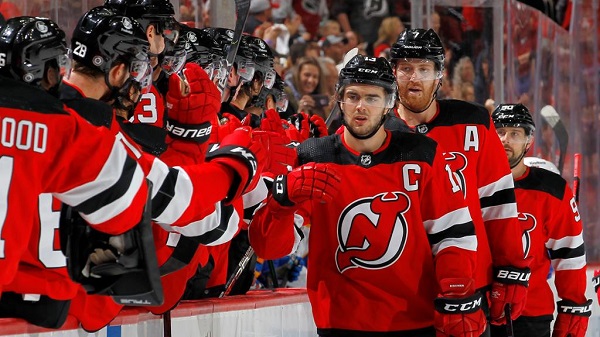 Season Record: 31-12-4
1XBet Spread: -1.5
1XBet Moneyline: 2.262
1XBet Over/Under: Over 5.5
BetMGM Spread: -1.5
BetMGM Moneyline: 1.77
BetMGM Over/Under: Over 6
Of the two teams, the New Jersey Devils are the ones who are having a fantastic season. The Devils' offense led with 3.47 goals scored per game, plus 32 goals in the last 8 games. Jack Hughes, Jesper Bratt, and Nico Hischier scored 69 goals and 85 assists two leading the top lines.
However, the rest of New Jersey's offense has played well too. Dawson Mercer, Miles Wood, and Yegor Sharangovich combine 30 goals and 46 assists, while Dougie Hamilton and Ryan Graves the defensemen have contributed 18 goals and 40 assists from the point to open up the offense.
The defense also improved, allowing just 2.60 goals per game, which includes only 3 goals in the last 2 games. Graves and Jonas Seigenthaler combined 7.2 defensive point shares and 168 blocked shots. Hamilton, Damon Severson, and Brendan Smith share 6.5 defensive points, adding to the unit's depth.
Vitek Vanecek the Devils' goaltender, improved with a .916 save percentage and a 2.30 goals-against average on 776 shots.
MatchPlug Prediction
NHL Predictions Today foretells that New Jersey which has had a good season will try to control the matchup from the first period, despite Nashville wanting to win on their home ice.
The Devils with their 3.47 average goals per game will pile on the goals with Hughes, Bratt, and the other members of the forward unit taking the Puck into the offensive zone and creating open shots.
New Jersey which allows only 2.60 goals per game, will curb the efforts of the Predators' offense. Hamilton, Graves, and the defensive unit will create turnovers in the defensive zone and limit shots on the net, giving Vanecek the chance to make saves.
NHL Expert Picks select the Devils to win the game with a powerful performance on the road, giving them their third consecutive victory.
Final Prediction: New Jersey Devils Moneyline.
NFL News: