The thrilling Real Salt Lake VS St Louis City FC happens today and tempers are roused. This preview will analyze the strengths and weaknesses of each team, and examine their most recent performances while offering picks and predictions to aid bettors make insightful bets.
MatchPlug creates analysis, picks, odds, Best Betting Tips Today and MLS Picks for Salt Lake and St Louis. We implore you to use our betting preview as a guide to know which of these teams will be the winner and back up your bets.
Related: MLS Matchday 5: Portland Timbers VS LA Galaxy Predictions
Predictions and Betting Preview for Real Salt Lake Vs St Louis City Matchday Game 5
Venue: America First Field, Utah
When: Saturday, March 18th, 2023
Time: 18:30 GMT
Teams to play: Real Salt Lake and St Louis City
PICKS: OVER 2.5
Odds provided by 1XBet.
Betting On Real Salt Lake
1XBet Spread: -1.5
1XBet Over/Under: Over 2.5
1XBet Moneyline: 2.01
Real Salt Lake had a rocky start to the season, but luckily other team fared far worse, so they are in 8th position in the Western Conference standings after recording one win and two losses.
They've played two games on the road and one home game, they won their first away game with a 1-2 score against the Vancouver Whitecaps. Then after playing home and away matches, they lost to two other stronger teams, the Seattle Sounders and Austin FC.
Salt Lake played little so far, statistics say they have a ratio of one goal scored per game and conceded two at home. Therefore, they must strengthen their defence to face the leaders.
Possible Lineup (3-5-2): Zac MacMath; Andrew Brody, Justen Glad, Marcelo Silva; Scott Caldwell, Bode Hidalgo, Jasper Löffelsend, Damir Kreilach, Diego Luna; Justin Meram, Jefferson Saravino.
Betting On St Louis City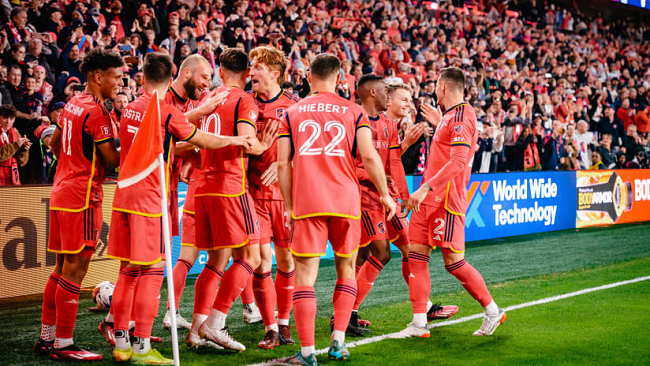 1XBet Spread: +1.5
1XBet Over/Under: Under 2.5
1XBet Moneyline: 3.54
St Louis City had a great start to the 2023 season. They've played one more match than their opponents and did so with an impeccable roster. This performance got them a 100% winning percentage in their first four games and a total of 12 points.
For goals, Louis City hasn't disappointed too, they scored 11 and conceded four. This doesn't show that they have a fantastic attack, but defence as well. Matter of fact they have the same number of wins home and away; but there is a scoring difference, with a ratio of 3 goals at home and 2.5 away.
All the players in the club are essential, but João Klauss and Jared Stroud stood out, they scored the most with three and two goals respectively.
Possible Lineup (4-3-3): Roman Burki; Jacob Nerwinski, Timothy Parker, Kyle Hiebert, John Nelson; Miguel Perez, Indiana Vassilev, Eduard Lowen; Rasmus Alm, João Klauss, Jared Stroud.
MatchPlug Prediction
The home team will have a challenging tussle against the visiting team.
They'll be playing what can be called the most consistent and strongest side and may not have the power to defeat them, as they've won only against a lesser team, while St Louis SC destroyed all their opponents.
More From MLS:
MLS Matchday 5: San Jose Earthquakes VS Toronto FC Predictions