Arizona Diamondbacks VS New York Mets will conclude their four-game series on Thursday at Citi Field. First pitch is scheduled for 4:10 p.m. ET.
The Diamondbacks (76-70 SU and 77-69 RL) will start right-hander Merrill Kelly. Kelly is 11-6 with a 3.16 ERA and a 1.19 WHIP in 26 outings (154.0 IP) this year.
New York (66-78 SU and 62-82 RL) will counter with righty Kodai Senga. Senga is 10-7 with a 3.07 ERA and 1.23 WHIP in 26 starts (149.1 IP).
The Mets are the moneyline favourites and the game total is eight runs.
Find MLB best bets today, predictions, picks, and odds for Mets VS Diamondbacks on MatchPlug. We are a Sure Prediction Site to get accurate previews on MLB matches.
Predictions And Betting Preview For New York Mets VS Arizona Diamondbacks MLB Regular Season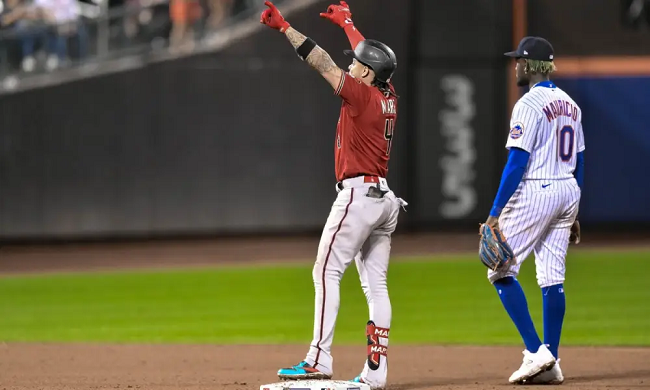 Venue: Citi Field, New York City, New York.
When: Thursday, September 14th, 2023
Time: 21:10 GMT
Teams to play: Mets and Diamondbacks.
MLB Expert Picks: MONEYLINE 1.896.
Odds by 1XBet and BetMGM.
Betting On The New York Mets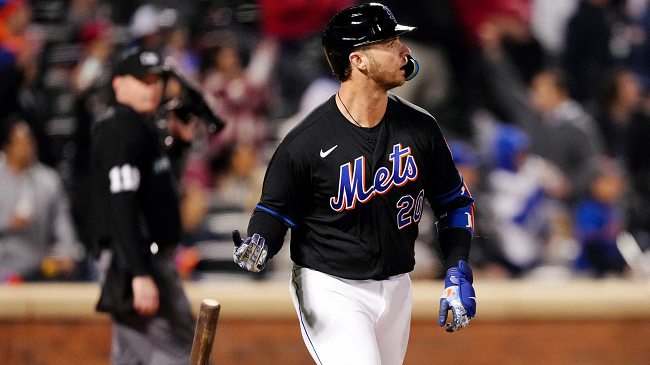 1XBet Spread: +1.5
1XBet Moneyline: 1.896
1XBet Over/Under: Over 7.5
BetMGM Spread: -1.5
BetMGM Moneyline: 1.83
BetMGM Over/Under: Under 7
The New York Mets won't be in the postseason in 2023 but are already making big plans with the newly hired president of baseball operations David Stearns. A native of New York and a Mets fan, Stearns helped the Brewers secure multiple division titles. Will he deliver more hardware to Queens?
New York averages 4.36 runs (20th) and hit .238 (26thO with a .725 OPS (18th). The team has hit 192 long balls (12th) and stole 106 bases (15th) in 2023. The NY pitching staff compiled a 4.43 ERA (19th) and a 1.38 WHIP (21st) with 50 quality starts (14th).
Senga will start for the Mets today in Queens. In his last appearance, he held Minnesota to two runs in six innings, but he played better in past start, fanning 12 Mariners in seven frames. He hasn't conceded over three runs since late June and is 5-3 with a 2.52 ERA in 14 home starts this season.
Betting On The Arizona Diamondbacks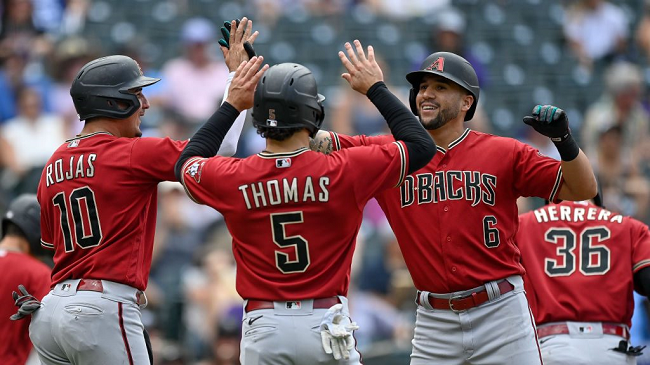 1XBet Spread: -1.5
1XBet Moneyline: 2.05
1XBet Over/Under: Under 7.5
BetMGM Spread: +1.5
BetMGM Moneyline: 2.00
BetMGM Over/Under: Over 7
The Arizona Diamondbacks won their last two series, taking five of seven games from Colorado and Chicago. Will he be able to hold off Cincinnati and San Francisco in the NL Wild Card chase?
Arizona scored 4.64 per game (13th) and hit .252 (14th) with a .739 OPS (16th). They've hit 157 long balls (20th) and stole 148 bases (3rd) this season. The Diamondback's pitching staff combine for a 4.57 ERA (21st) and a 1.33 WHIP (19th) with 53 quality starts (12th).
Kelly will take the mound for the visitors in tonight's series finale. He is 7-3 with a 3.53 ERA and a 1.35 WHIP in 13 road starts this season. In his two outings this September, he has permitted two total runs in 12.2 combined innings vs. the Rockies and Cubs. Besides a poor outing against the Dodgers on August 30th (seven runs and 12 hits), he's been reliable, holding nine of his last ten opponents to three or fewer runs.
MatchPlug Prediction For New York Mets VS Arizona Diamondbacks
Merrill Kelly has not pitched on the road the same way he did at home this season. Opponents hit .262 against him in road starts, compared to .186 at home, with 21 more hits in six fewer innings pitched. He also struck out fewer batters away from the friendly confines of Chase Field.
In Kelly's last start on the road, he only conceded one run but walked five batters and fanned only five hitters. At home against the Rockies two starts ago, he had 12 strikeouts in seven innings. At Dodger Stadium on August 29, he put 15 runners on base and conceded seven innings. At Dodger Stadium on August 29, he put 15 runners on base and conceded seven runs. He also held Cincinnati scoreless with one hit and 12 Ks in seven innings at home. Lesser non-contact outs and more runners on base often lead to more runs.
Senga, on the other hand, has dominated Citi Field, holding the opposition to a .186 batting average with 106 strikeouts in 82 innings. He has a 2.52 ERA and 1.10 WHIP in 14 home starts, with 22 combined Ks in his last two outings in Queens, the Diamondbacks, who do not hit well on the road (.245 BA and .318 OBP), will fall to him next.
Prediction: New York Mets Moneyline.
Related Preview:
MLB EXPERT PICKS: Boston Red Sox VS New York Yankees betting Predictions.