Los Angeles Football Club forward Gareth Bale has retired from professional soccer after a fruitful 18-year career. Bale announced this decision on Monday.
Gareth Bale joined LAFC last June after leaving La Liga's Real Madrid. He scored one of the most memorable goals in MLS history, an extra-time header that sent the Black & Gold into Penalty kicks for their MLS Cup 2022 victory.
"We want to thank Gareth for everything he brought to our club," John Torrington LAFC co-president and general manager said in a press release. "He arrived here with a goal to win championships in LA, and, like he has done everywhere else in his career – he succeeded.
"It was an honor to have one of the most talented, dynamic and exciting players of his generation finish his career with a title for LAFC, and we wish Gareth, his wife Emma, and their family nothing but the best in their future endeavors."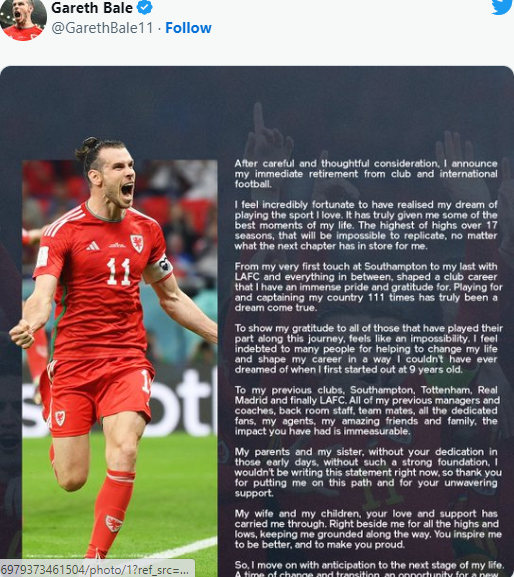 Related news: Major League Soccer Announces 2023 Regular Season Schedule.
Bale graced the list of the highest-profile players in MLS history, scoring three goals in 13 total appearances for the LAFC. He also helped the club win the Supporters' Shield, making them the eighth MLS team to complete that single-season double.
Bale was once the most-expensive player transfer in the world when traded from Tottenham to Real Madrid. He won 21 trophies throughout a club career that began at Southampton. Five UEFA Champions League titles also grace his silverware cabinet.
This winter, Gareth captained Wales to their first FIFA World Cup appearance in 64 years and he retires as the Dragons' all-time leader in appearances (111), and goals (40). After Wales' Group B exit in Qatar, Bale said he wanted to participate in the 2024 Euros. But that plan changed.
"I feel incredibly fortunate to have realized my dream of playing the sport I love," Bale announced on his official channels. "It has truly given me some of the best moments of my life. The highest of highs over 17 seasons, that will be impossible to replicate, no matter what the next chapter has in store for me."
Following Bale's departure, the LAFC will now have an open spot for Designated Player to use for the 2023 season alongside forwards Carlos Vela and Denis Bouanga. Bale was on a guaranteed deal through the summer, then he reportedly became DP if a contract option was exercised.
Los Angeles Football Club are entering their second season under Steve Cherundolo the head coach and starting its title defense on February 25th against the LA Galaxy in a season-opening EL Trafico at the Rose Bowl (9:30 pm ET | MLS Season Pass).
American Sports Update:
David Pastrnak Lifts B's In Road Trip Finale With Hat Trick.
Brandon Belt Signed To Blue Jays In One-Year Deal.
Anthony Davis To Start 'Ramp-Up Process' To Return To Lakers After Foot Injury.