Lebron James is out for the Lakers Vs Nuggets due to ankle soreness
Although there is no specific timeline for his return, Lakers power forward Anthony Davis is reportedly set to return from his foot injury, and may not be sidelined much longer.
Davis plans to start the "ramp-up process" to return to play later this week, according to Dave McMenamin from ESPN.
While no time has been given for his return, the Los Angeles Lakers have announced that Davis is indefinitely out with his right foot injury; his foot is on the mend. He will begin pool workouts, running on an altered-gravity treadmill and start increasing his basketball workouts in the coming weeks.
The Lakers will play without Davis for the foreseeable future, but the report on Monday indicates a glimmer of progress.
Anthony Davis hasn't played a game since he injured his right foot against Denver Nuggets on December 16. His right leg collided with Denver Nuggets' Nikola Jokic while in the paint, and he started hopping in pain. Davis was later diagnosed with a bone spur fracture and a stress reaction in his right foot.
Davis will sit out his 13th consecutive game on Monday when the Lakers go against the Nuggets in Denver. Davis averaged 27.4 points and a career-high 12.1 rebounds per game while shooting nearly 60% from the field before he went down.
Thomas Bryant has been picked as a replacement for Davis for the time being. Bryant, who signed a one-year deal with the LA Lakers this offseason, has averaged 17.1 points and 11.2 rebounds over the past 10 games. He had 29 points and 14 rebounds in the Lakers win over the Sacramento Kings on Saturday night.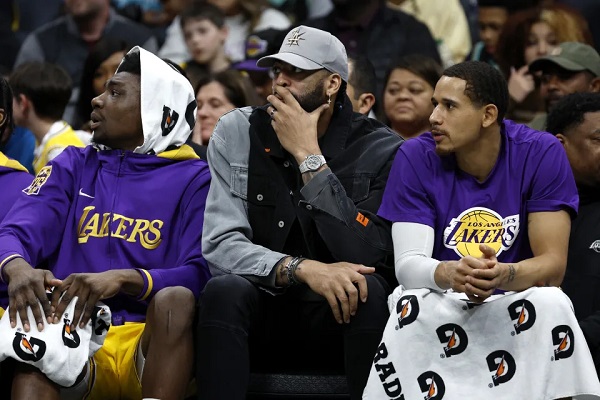 LeBron James is out for the Lakers VS Nuggets with ankle soreness
"I've already kind of had visions of what that could possibly look like with the frontcourt of myself, AD and Thomas on the floor together," Lebron Jame said on Saturday, on ESPN. "I think it could be extremely beneficial for our ballclub … We're just trying to hold it down until our big guy comes back. And Thomas has definitely done his part, and we're all trying to chip in."
James did not play Monday's game against the Nuggets because his left ankle was sore, the team announced this on Monday afternoon.
The Los Angeles Lakers entered Monday's game on a five-game win streak, which is the best they've had this season. James played in four of those games, sitting out only last week's win over the Miami Heat due to a non-COVID-related illness.
He put up a near triple-double of 47 points, 10 rebounds and nine assists in the Lakers' win over the Atalanta Hawks, and then backed it up with a 43-point outing against the Charlotte Hornets days later.
This season, Lebron James has averaged 29.1 points and 8.2 rebounds per game this season.
After their two-game road trip, the Lakers will be going home. On Thursday, they will host the Dallas Mavericks. There is no telling if James will miss more than one game.
More American Sports News:
Chicago Bears Become No.1 Overall Pick In 2023 NFL Draft.
Damar Hamlin Suffers Cardiac Arrest Bills VS Bengals Game Suspended.