Belt coming off a rough 2022 season that ended with a knee surgery
The Toronto Blue Jays have expanded their team, by adding one more left-handed bat, Brandon Belt as they work toward mixing up their right-heavy lineup.
Toronto has a one-year contract on the table with San Francisco Giants first baseman Brandon Belt, according to the San Francisco Chronicle. The Athletic says the deal is worth $9.3 million. The Blue Jays will be announcing the signing today.
Belt in April had already passed his physicals, which is remarkable considering he had season-ending surgery on his right knee in September. It is the third surgery Belt has had on the knee since 2018.
Last season, Brandon Belt witnessed what could be referred to as the worst of his 12-year career. He slashed .213/.326/.350 with eight home runs in 78 games, including .223/.319/.383 against righties. In 2021 he hit a robust .274/.378/.597 with 29 homers in only 97 games.
Multiple injuries have stunted Belt's play to only 598 of 870 possible regular-season games since 2017, a not-very-nice 69 percent.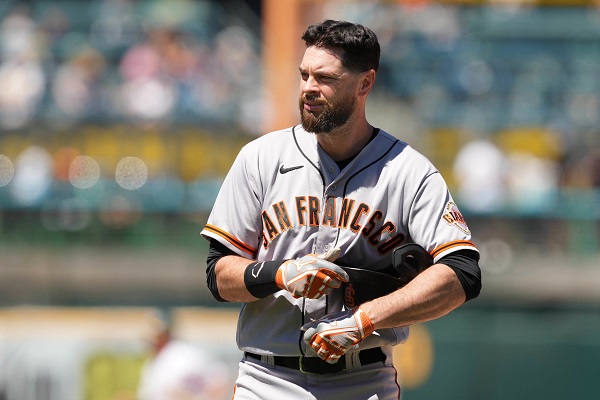 Speaking on Belt, CBS' R.J.Anderson had this to say:
"Belt, who did not play after Aug. 20 because of knee woes, has conceded he may retire this winter if his ailment doesn't improve. (Count Giants broadcaster Duane Kuiper among those who believe he's finished.) Even if Belt returns, it's unclear how much he has left to offer. He had the worst season of his career by OPS+, and he's a complete nonfactor against velocity. Indeed, Belt ranked in the second percentile in exit velocity against pitches 95 mph or greater, putting him in company with the likes of light-hitting (to be kind) infielders Nick Allen and Vidal Bruján. If this is the end — and it may be, one way or another — Belt deserves his flowers for a good career."
Considering his knee trouble and Vladimir Guerrero Jr.s' appearance at first base, Belt intends to step in as Toronto's DH against righties. The Blue Jays have included Daulton Varsho, Kevin Kiermaier, and now Belt, who are all left-handed hitters to a lineup that was almost entirely right-handed at times last season.
Toronto BlueJays desperately needed lineup balance this offseason and have created it with Brandon Belt's signing.
The team went 92-70 last season and was swept in the best-of-three Wild Card Series by the Seattle Mariners.
American Sports Updates:
Anthony Davis To Start 'Ramp-Up Process' To Return To Lakers After Foot Injury.
Chicago Bears Become No.1 Overall Pick In 2023 NFL Draft.
Damar Hamlin Suffers Cardiac Arrest Bills VS Bengals Game Suspended.