The Chicago Bears will want to win successively for the first time this campaign when they meet the Detroit Lions in Week 11 for Lions VS Bears. The Lions, on the other hand, want their eighth victory of the season.
Keep reading to find out the NFL predictions, picks, odds, and analysis for the Lions VS Bears matchup, as delivered by MatchPlug. We provide accurate Sports betting predictions for NFL previews so that you can make good betting choices.
Predictions And Betting Preview For Detroit Lions VS Chicago Bears 2023 NFL Regular Season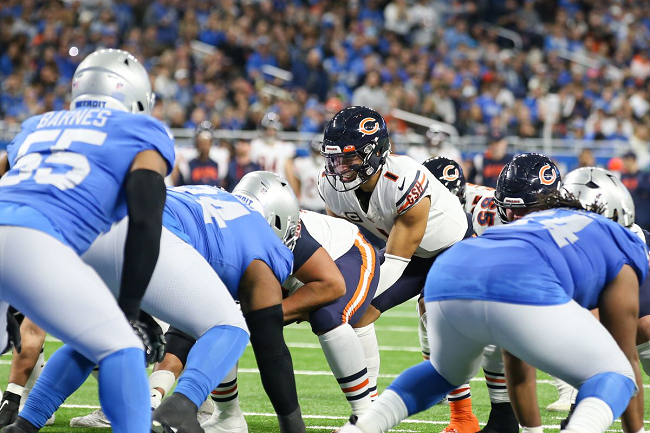 Venue: Ford Field, Detroit, Michigan.
When: Sunday, November 19th, 2023.
Time: 19:00
Teams to play: Lions and Bears.
NFL Expert Picks: MONEYLINE 1.26.
Odds provided by 1XBet and BetMGM.
Betting On The Detroit Lions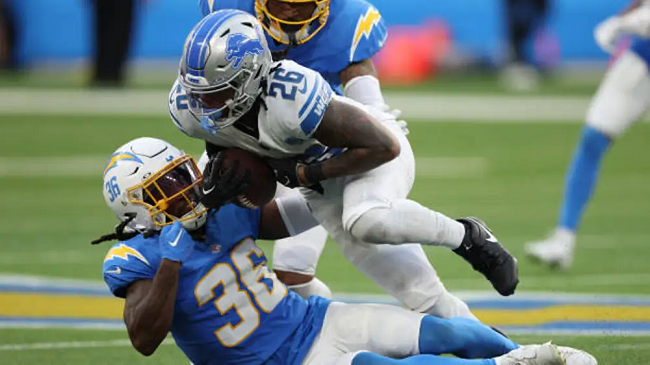 1XBet Spread: -7.5
1XBet Over/Under: Over 48.5
1XBet Moneyline: 1.26
BetMGM Spread: -7.5
BetMGM Over/Under: Under 48
BetMGM Moneyline: 1.25
The Detroit Lions came out of their bye in Week 9 appearing rusty on the defensive side of the field but still explosive on the offensive end, as they defeated the Los Angeles Chargers in Inglewood for a 41-38 victory on the road. That is the second consecutive win for Detroit and sixth over the team's last seven outings.
Running back David Montgomery has made the Lions' attack even more dangerous, as he led the team in the Chargers game with 116 rushing yards and a touchdown on 12 carries. Meanwhile, rookie tailback Jahmyr Gibbs had 77 rushing yards and two touchdowns on 14 carries. The Bears' defence does not permit a lot of rushing yards, but it might still not be good enough to slow down Montogomery and Gibbs. There is also the Lions' passing offence. Jared Goff had 333 passing yards and two touchdowns with no interceptions versus the Chargers for the Lions who entered Week 10 sixth in the NFL with 259.3 passing yards per contest.
Betting On The Chicago Bears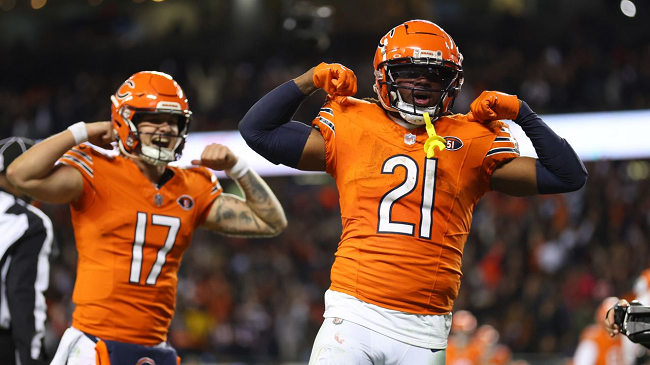 1XBet Spread: +7.5
1XBet Over/Under: Under 48.5
1XBet Moneyline: 3.945
BetMGM Spread: +7.5
BetMGM Over/Under: Over 48
BetMGM Moneyline: 4.10
The Chicago Bears stopped a two-game losing run with a 16-13 win over the Carolina Panthers at home. The season is still a big disappointment overall so far for Chicago, but it could and should get better for them in Week 11, with quarterback Justin Fields expected to come back after weeks of absence because of a hand injury.
Fields coming back will be an upgrade for Chicago, who weathered his absence by starting Tyler Bagent. The Bears' defence also displayed more bite in the victory over Carolina, partly because of the Montez Sweat being added, who came over from the Washington Commanders through a trade. Also, running back D'Onta Foreman, shouldn't be slept on, he had 80 rushing yards and a touchdown on 21 carries in the Panthers game.
MatchPlug Prediction For Detroit Lions VS Chicago Bears
The Chicago Bears still can't be trusted to do anything consistent despite their victory in Week 10. The Detroit Lions will handle business in Week 11 and score a double-digit victory at home.
Final Prediction: Detroit Lions Moneyline.