The Dallas Cowboys have got their groove back and are ready to take on the struggling Carolina Panthers, who wish to pull off an upset in Week 11 to boost their morale. Will Dallas defeat Carolina? Or will Carolina secure a huge upset on the road? Find out in Panthers VS Cowboys.
Our preview covers the NFL predictions for Panthers VS Cowboys, plus the picks, odds, and analysis for which team will win this game. Don't forget to check MatchPlug for more NFL previews. We are the Best Prediction site for everything American Football.
Predictions And Betting Preview For Carolina Panthers VS Dallas Cowboys 2023 NFL Regular Season 
Venue: Bank of America Stadium, Charlotte, North Carolina.
When: Sunday, November 19th, 2023.
Time: 19:00
Teams to play: Panthers and Cowboys.
NFL Expert Picks: MONEYLINE 1.19.
Odds provided by 1XBet and BetMGM.
Betting On The Carolina Panthers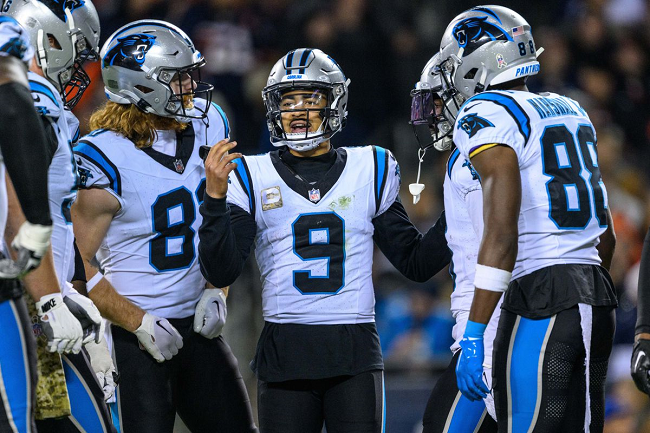 1XBet Spread: +10.5
1XBet Over/Under: Over 42.5
1XBet Moneyline: 4.885
BetMGM Spread: +10.5
BetMGM Over/Under: Under 42
BetMGM Moneyline: 5.00
The Carolina Panthers' woes continue. In their most recent game, they fell to Tyler Bagent and the Chicago Bears at Soldier Field in Week 10. That game happened on Thursday, so the Panthers will enter Week 11 with fresh legs, thanks to a "mini-bye.''
Bryce Young seemed frustrated with how he and Carolina's offense played against Chicago; with the QB passing for only 185 yards with zero touchdowns on 21/38 completions. Still, he made some impressive throws, and if Tommy Devito managed to throw for a couple of touchdowns in Week 10 versus Dallas' defence, then there's a good reason to believe that Young will have good moments in Week 11 against the same top unit.
Betting On The Dallas Cowboys
1XBet Spread: -10.5
1XBet Over/Under: Under 42.5
1XBet Moneyline: 1.19
BetMGM Spread: -10.5
BetMGM Over/Under: Over 42
BetMGM Moneyline: 1.18
The Dallas Cowboys did not pity the New York Giants for the second time this campaign, with Dak Prescott and company beating their NFC East division rivals on Sunday for a walk-in-the-park 49-17 victory at home. That is a nice rebound for Dallas following a road loss to the Philadelphia Eagles a week before.
Many people did not expect New York to upset Dallas, and that is the expectation most people have of the Panthers for this upcoming tournament in Week 11. The Panthers' offence has yet to figure things out with Bryce Young under centre, with the rookie quarterback about to face one of the stingiest defences in the league. On the season, the Cowboys are fifth in the league with 18.3 points per game.
MatchPlug Prediction For Carolina Panthers VS Dallas Cowboys
The Panthers are just not capable of earning their fans and bettors' confidence. The Cowboys have had three defeats this campaign already, but at least they almost always win against bad teams. That will be the case this Sunday.
Final Prediction: Dallas Cowboys Moneyline.