Miami Heat VS Boston Celtics puts the Heat one win away from moving to the 2023 NBA Finals.
Will they end the Celtics once and for all? Or will Boston avoid a sweep and manifest Game 5?
Keep reading to find out more information about the Miami VS Boston showdown happening in the 2023 NBA Playoffs.
MatchPlug also has the best NBA Betting predictions, picks, odds, and Todays Prediction, all to help you make accurate betting decisions.
Predictions and Betting Preview for Miami Heat VS Boston Celtics Game 4 Eastern Conference Finals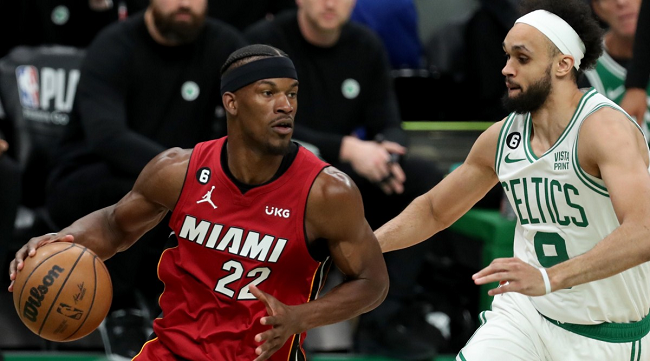 Venue: Kaseya Center, Miami.
When: Tuesday, May 23rd, 2023
Time: 17:30 GMT
Teams to play: Miami Heat and Boston Celtics.
 NBA Expert Picks: MONEYLINE 1.955
Odds by BetMGM and 1XBet.
Betting On The Miami Heat 

Regular Season Record: 44-38
1XBet Spread: -1.5
1XBet Moneyline: 1.955
1XBet Over/Under: Over 217.5
BetMGM Spread: -1.5
BetMGM Moneyline: Under 216.5
BetMGM Over/Under: 1.83
The Miami Heat are about to do the unimaginable and win the Eastern Conference title. They didn't need Jimmy Butler to over-perform, to melt the Celtics in Game 3. Instead, they leveraged the exploits of Caleb Martin, Max Strus, and Duncan Robinson.
Miami as a team, shot 56.8 percent from the field and went 19/35 (54.3%) from deep. Although the shooting splits seem hard to maintain, the Heat will continuously keep Boston's defense in line. 
Additionally, the team's defense is also holding down the fort. Tatum shoots only 45.5 per cent in the series, while Jaylen Brown is held down to just 37.3 FG%. The Heat limited the Celtics too to just 29.2 percent shooting from behind the arc.
Boston appears demotivated too, as it is still processing what it had to deal with in the Eastern Conference Finals. Miami must be gearing up to pounce on a stunned Celtics team.
Betting On Boston Celtics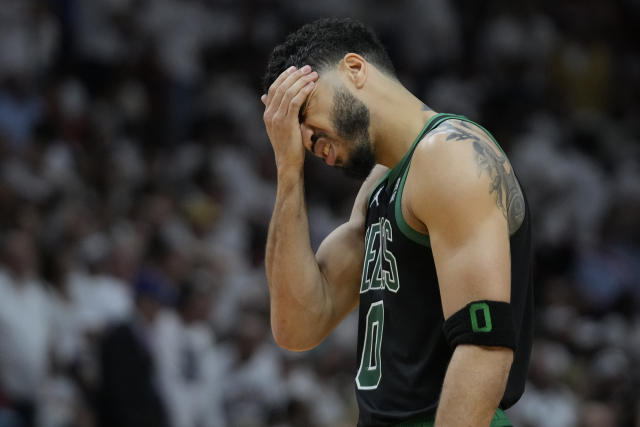 Regular Season Record: 57-25
1XBet Spread: +1.5
1XBet Moneyline: 2.19
1XBet Over/Under: Under 217.5
BetMGM Spread: +1.5
BetMGM Moneyline: 1.83
BetMGM Over/Under: Over 216.5
Boston no longer had the liberty of making mistakes going forward. For it to make the 2023 NBA Finals, the Celtics must do what no other team in the NBA has done before, which is to win a playoff series after losing three matches of the series.
While this is easier said than done for them, they still have the talents and resources to beat the Heat, even in only one match. After an uninspiring performance in Game 3, there is no way but up for the Celtics, they average 107.7 points on 45.7 per cent shooting from the field in the series.
Boston hopes for regression from Miami, which shoots 51.9 per cent from the field and 47.8 per cent from behind the arc. They are 7-3 against the spread in their last 10 games after a defeat.
MatchPlug Prediction
Boston had 17 extra field-goal attempts than the Heat in Game 3. Their shots were simply not falling.
Fans can expect the Celtics to turn their shot at a higher rate in Game 4, while Miami Heat will struggle to dip on that end.