The Houston Astros may have caught the Texas Rangers to win the AL West Division title this season but they still haven't caught them in the ALCS yet. The pitching contest in game three of Rangers VS Astros will feature Houston righty Cristian Javier as he takes on the returning Max Scherzer of the Texas Rangers.
MatchPlug has created this preview to give you the MLB best bets today, picks, odds, and predictions for Rangers VS Astros. We are a Hot Prediction Site to get updates, news, and analysis for Major League Baseball.
Predictions And Betting Preview For Texas Rangers VS Houston Astros MLB 2023 Playoffs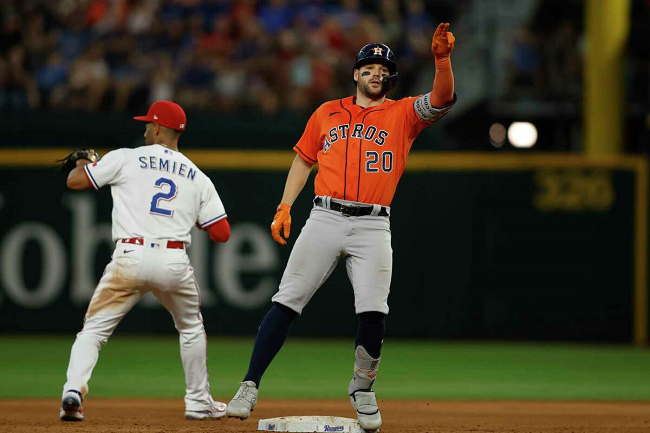 Venue: Globe Life Field, Arlington, Texas.
When: Thursday, 19th October, 2023
Time: 01:03
Teams to play: Rangers and Astros.
MLB Expert Picks: MONEYLINE 1.855.
Odds by 1XBet and BetMGM.
Betting On The Texas Rangers
1XBet Spread: +1.5
1XBet Moneyline: 1.855
1XBet Over/Under: Over 9.5
BetMGM Spread: -1.5
BetMGM Moneyline: 1.80
BetMGM Over/Under: Under 9
The Texas Rangers have become the first team to ever reach the postseason with more blown saves in a season. Their beleaguered bullpen now has 5.1 innings in the ALCS and permitted only one run. In their 7-0 start to the playoffs, the bullpen has allowed only five runs total in 22.1 innings of work.
Texas' starting staff will get a huge boost tonight as three-time Cy Young Award winner Max Scherzer comes back to the rotation after missing the first two rounds of the playoffs. This will be Scherzer's 23 career start and 28th postseason appearance overall and fifth different team in the postseason. Overall, he is 7-7 with a 3.58 ERA in his postseason career.
Betting On The Houston Astros
1XBet Spread: -1.5
1XBet Moneyline: 2.101
1XBet Over/Under: Under 9.5
BetMGM Spread: +1.5
BetMGM Moneyline: 2.05
BetMGM Over/Under: Over 9
The Houston Astros ended the regular season with four consecutive victories and then took three of four over the Minnesota Twins in the divisional round and were one of the hottest teams in the playoffs to enter the ALCS. Unluckily, Houston will now play an even hotter team, the Rangers, and are now in a 2-0 hole as they take the road.
Cristian Javier will pitch for the Astros in game three in a close must-win situation. Despite being down 2-0, Houston should feel confident about sending Javier to the mound. In his postseason career, he is 5-1 in 15 games including three starts with an ERA of only 1.91.
MatchPlug Prediction For Texas Rangers VS Houston Astros
The Houston Astros bullpen has been almost un-hittable in the series and has yet to allow a run in two games. Unfortunately, however, the Astros cannot combine their offense with their pitching yet in the series. Houston is under .500 on the season at home this year but has the best road record in baseball. They will ride this trend to a win over the Texas Rangers tonight.
Prediction: Texas Rangers Moneyline.