What are 5 expert football betting tips you should never ignore?
Football is unarguably one of the most famous sports in the world, and above all, it offers a way to make money betting for football.
You can predict the outcome of a game or likely occurrences in a match and get paid handsomely for it.
However, while winning in this sport is more straightforward than in other games, you must be smart with your bets so that you maximize your earnings. This is why experts advise that you always use betting strategies and systems for your wagers.
If you want to win consistently betting on football, then learn betting strategies and follow the betting tips given by experts which we have shared in this article.
Expert Football Betting Tips You Should Never Ignore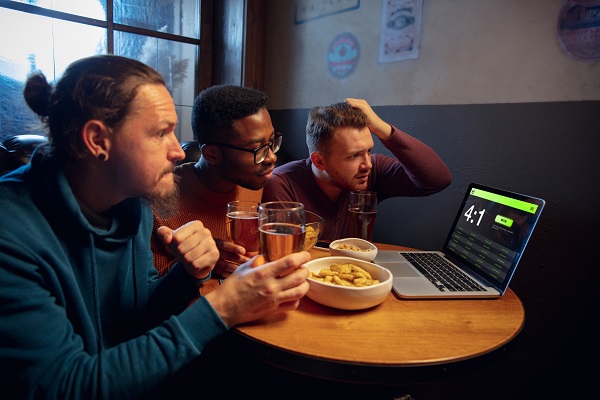 1. Forget the odds, focus on form
2. Don't play multiple bets
3. Bet with a trusted prediction site
4. Check a league's overall stats
5. Avoid playing fixed games
1. Forget The Odds, Focus On Form
Most betting strategies have advised that bettors always seek out and bet with bookmakers who offer the best in the markets. So, we understand how these Football tips betting enthusiasts should follow, might sound counterintuitive.
However, as a beginner starting out in football betting, you should know that odds can be deceiving. Mainly because some bookmakers identify them as a punter's weakness and then use it to their advantage.
While you went into this industry believing that teams with lesser odds are the favorite to win a game, this is a trap to lure bettors into staking their money.
If you must wager, instead of chasing after odds, focus on things that can't be manipulated by a bookmaker like a team's form, player injuries, weather, home and away match records, and other factors that determine a match's outcome.
2. Don't Play Multiple Bets
A new bettor betting for football, it is easy to be swayed by the temptation to bet on many games at once because you want "a higher payout". But, try to resist the urge to do this because it may not bode well for you.
One of the expert Football betting tips you shouldn't ignore is that you must avoid playing multiple bets at all times.
Football Prediction is hard and it is twice as hard for beginners. So, have one or two matches on a single slip, and as you win you can start spreading to wagering on three or four games at once.
3. Bet With A Trusted Prediction Site
Okay, so this tip should go without saying, but we are going to say it either way.
As a newbie in the sports betting scene, you must understand that while football may be a game of passion, there is nothing passionate about losing money.
Most Soccer Predictions sites focus on doing an analysis of soccer games; analyzing every match based on internal and external factors. And others aren't very thorough on the predictions they feed bettors.
To find a reliable betting site, browse through each of them to find the ones that have a success rate of at least 80%. You can also compare several platforms before choosing to know which ones favor you.
If you are looking for a good Football Prediction site, you should try MatchPlug.
4. Check A League's Overall Stats
Spend hours analyzing numbers, statistics, and trends before you start betting on football matches. There are several websites like Kickform and Transfermarkt that can help you with this.
Stats to check should include things like how well a team and its players are performing, their head-to-head record against an opponent for a match, their performance over the last games, and home and away play too.
Similarly, you can also look for statistics like player injuries and absences. It may not be key players. But if a team's back line is stretched thin and most of their defenders are out, this can change the dynamics of their defense and weaken their bench. This can greatly impact the team's play in a match.
Finally, if you want to know how a team will perform for an upcoming matchup, then check their most recent matches. This is a good indicator to follow, as it tells you several things.
What players are performing well or aren't? If their goalkeeper lost 7 or more goals in the last 3 games, he might give up 3 or more in the next match.
If a player has scored 4 goals in the last game, dominated the pitch, created plays, and set up goals, this can assist you in betting on the team. It shows who has been playing well.
A team that suffered three consecutive losses, might lose four. This could be due to injuries, slumps, or back-to-back plays.
On the other hand, if a team is on a streak for their last 3 games it can tell you how well they'll do in the next match.
5. Avoid Playing Fixed Games
Playing football betting when it is your first time is a recipe for temptation, particularly when you haven't hit a big win yet.
This is the time you're most vulnerable and online scammers will fish you out with offers and evidence of fixed matches that require you to pay before you get these games.
Others will require that you stake a huge amount of cash and pay after you win.
Know these offers are all scams, and football betting has nothing like fixed matches. Any teams that are caught doing this will be disciplined and may be nullified. Ensure that you avoid them.
Football betting is just as profitable as football itself. And as it is with other sports, you must apply some strategies and tips if you want to increase your chances of winning.
Note down these tips provided by experts; forget the odds, focus on form, don't play multiple bets, bet with trusted prediction sites, check a team's overall stats, and avoid fixed games.
Related Articles:
5 Things To Look Out For When Researching For A Football Bet.
5 Ways To Make Money Online With Sports Betting.
D0's And Don'ts To Winning In Sports Betting.