The Miami Dolphins certainly came to play in the second half of their game against the Baltimore Ravens. It's been a long time since we've seen this group play to the abilities they showcased on Sunday.
Miami Dolphins Had Phenomenal Game
Many have doubted the young signal caller Tua Tagovailoa. He's been one of the most heckled quarterbacks in the league by quite a substantial margin in these past few years. He proved all of the doubters wrong by throwing for 469 yards and SIX touchdown passes to lead a vicious comeback. The Dolphins found themselves down by three touchdowns at the start of the fourth quarter when Tua started lighting it up in the passing game to bring it back. Tua's legendary performance helped the Dolphins pull away at the end of regulation with a 42-38 final.
Now, the Miami Dolphins didn't just get success out of only their quarterback. They clearly needed wide receivers to be getting open consistently. Luckily, they had the speedster duo of Tyreek Hill and Jaylen Waddle to get the job done in that department. Waddle had 171 yards and two touchdowns through the air while Hill poured on 190 yards and two touchdowns of his own. These two teammates putting up stat lines like this in the same game will end up going down in history.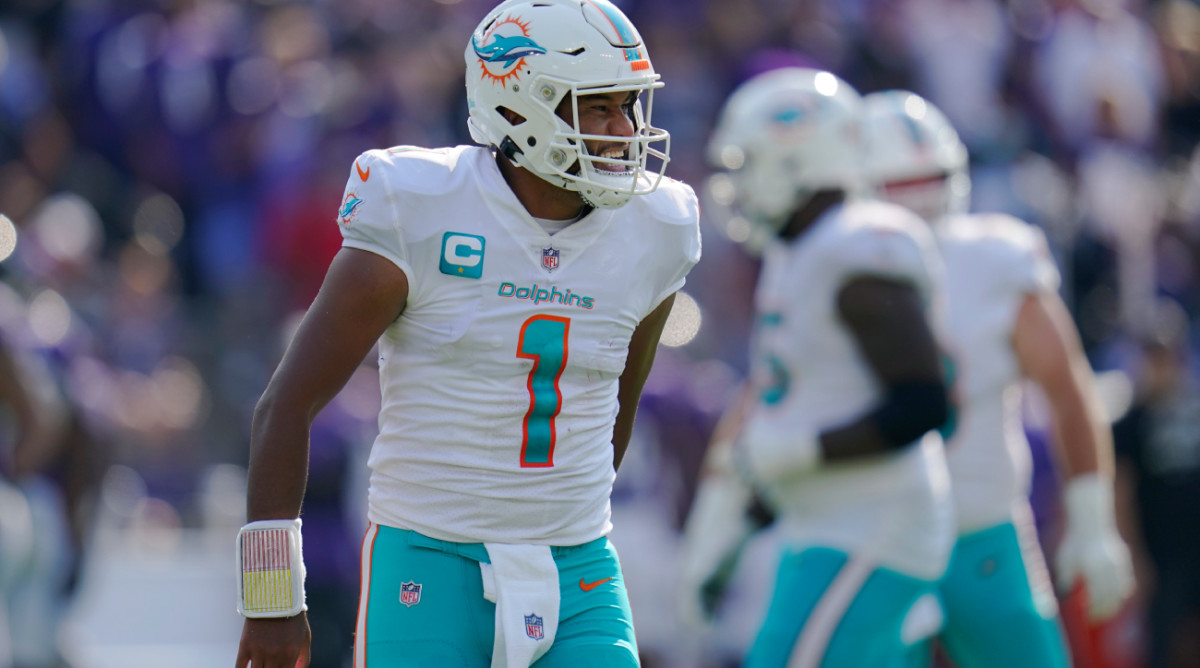 It's great to see a player like Tua thrive under the right leadership and teammates. He's had a very rough go in the NFL due to circumstances out of his control. The former Dolphins head coach, Brian Flores, had concerns about him throughout their time together. Flores would consistently switch out hits two quarterbacks, starting Tua on some games until he felt that he underperformed and swapped back to the journeyman Ryan Fitzpatrick. Speaking of Ryan, he once told reporters that Tagovailoa was "limited physically."
Tua Facing Tremendous Hate Since Joining Dolphins
It's been unfair to see this much criticism in just a few years in the league. Especially when Tua came into the NFL with a major hip injury that he was working his way back from. His new head coach Mike McDaniel was thrilled about the confidence Tagovailoa showed in this last game against Baltimore. When they asked him about his quarterback's performance, he said, "Now maybe Tua will finally listen to me. What I mean by that is, it's awesome to be critical of yourself. It is good. He has a high standard for himself. The absolute worst thing could have happened in the beginning of the game, the contested ball, not really his fault on the first interception and then he starts pressing and throws it up for the second interception"
Mike continued by saying, "He stopped worrying about the last play and went and played and took his responsibility seriously to his teammates…. It was a moment, I think, he'll never forget and hopefully he can use it moving forward."  
With this type of motivation surrounding Tua and these 2-0 Miami Dolphins, there is a genuine shot that we could be witnessing the birth of something incredible down there. Here's to hoping that they can keep on pushing forward in 2022 with these strong performances!   
Click here for more news just like this!